Online SAT Private Tutoring & SAT Courses 
Online SAT courses & private tutoring
Experienced tutors & efficient online database
References with 1500+ worldwide
Feel safe with our Satisfaction Guarantee Policy
#SAT #REASONING #ENGLISH #READING #WRITING AND LANGUAGE #MATHEMATICS #BEST SAT COURSE
Join the 
Online SAT Courses
Would you like to learn excellent strategies that can help you succeed on the SAT exam? Would you like to master English Grammar rules to increase your score? By participating in this course, you will learn a lot of information and SAT techniques that will help you understand the structure of the SAT Maths and SAT English tests. During the online SAT prep course, you will gain many of the skills needed to pass the exam.
4-months of SAT Reasoning course is opened for each SAT exam. All sections have their own SAT tutor. Our carefully prepared programs will be given by professional SAT teachers. We are with you in the race against time with online homework and SAT practice tests. We provide the best SAT education in 5-student online classes created according to students' levels.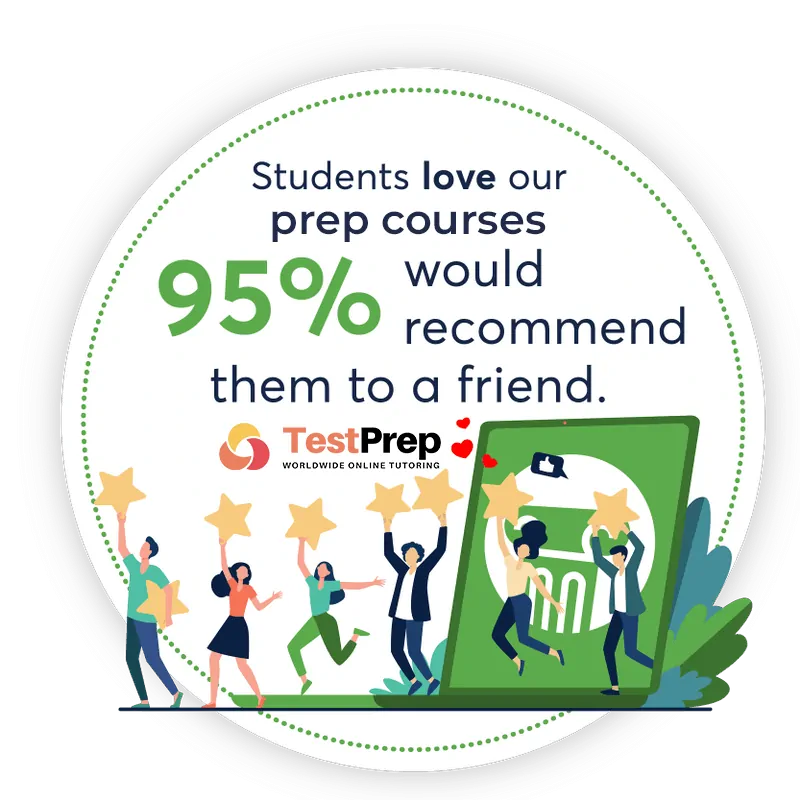 SAT Online Course
 Schedule
We offer 72 hours of SAT course program with 30 practice tests. We work with our carefully selected study materials to ensure you get over 1500 at the exam. Groups formed according to the levels of the students are taught in the latest tech classes that include all subjects.
Start
Başlangıç
End
Bitiş
Timing & Schedule
Saatler & Takvim
18 September 2021
18 Eylül 2021
04 Dec 2021
04 Aralık 2021
Full - No More Registration
Dolu - Kayıtlarımız Kapanmıştır

22 November 2021
22 Kasım 2021
11 March 2022
11 Mart 2022
***Registration is open till November 15, 2021***
***Son Kayıt: 15 Kasım 2022***
Monday - Wednesday - Friday: 18:00 - 20:15
Pazartesi - Çarşamba - Cuma: 18:00 - 20:15


17 January 2022
17 Ocak 2022
06 May 2022
06 Mayıs 2022
***Registration is open till January 14, 2022***
***Son Kayıt: 14 Ocak 2022***
Salı - Wednesday - Friday: 18:00 - 20:15
Pazartesi - Çarşamba - Cuma: 18:00 - 20:15


All SAT Reasoning Topics
 6-student interactive online classes
72 Hours of Instruction by Expert SAT Tutors
 10+30 Real Timed SAT Practice Tests
 All the materials will be provided
 100% Refund Guarantee if you are unhappy with the 1st-week lessons.
*10 practice tests will be held regularly. 30 practice tests can be taken at any time by the student. After regular practice tests, problem-solving lessons will be held in which the questions that students could not solve or solved incorrectly are evaluated after every 2 practice tests.
I recommend that you take your SAT courses from a professional institute such as Test Prep. With its high quality international connection, it is also a prominent place in educational consultancy and school applications. I registered my daughter on recommendation and I can recommend it. They are extremely relevant and knowledgeable. They were there whenever we needed them from beginning to end. This is the most important thing.

We called and got information about everything about the SAT prep. We finally got a score of 1520 and it was impossible to achieve this score without your help. Thank you very much again.

Parent of Test Prep SAT student – Mrs. Ceyda
Online SAT Private Tutoring Programs Focus on Success in Short Time
If you want to get maximum results in minimum time in the SAT exam, the special online SAT tutoring programs offered by Test Prep are for you. It is not impossible, but very difficult, to succeed with your own work for SAT, which is a time-tested exam. For this reason, you will save time with our online SAT private lessons prepared to cover your deficiencies in a short time. In addition, with our professional training staff, you reach high scores thanks to our SAT tutoring. Getting a high score from this exam is very important for you to get accepted to schools with scholarship.
Our private lesson programs are created according to the appropriate times of the students. We help our students who have decided on the date they will take the exam to create a program. Reach the desired score in a short time with weekday or weekend lesson options.
Test Prep, which operates worldwide, connects you with SAT teachers all over the world with online classes. Pass 1500 with Test Prep study materials compiled from hundreds of different sources, working with the best SAT instructors worldwide.
A single 90-minute session with experienced TestPrep SAT Tutor on TestPrep interactive whiteboard
 Choose between Single Math or English Lesson
Topics according to your needs
Fits your time schedule
10 x 90-minute Private Lesson
10 x 90-minute sessions with experienced TestPrep SAT Tutor on TestPrep interactive whiteboard
 Any combination of 10 Math or English Lessons
Topics according to your needs
Fits your time schedule
20 x 90-minute Private Lesson
20 x 90-minute sessions with experienced TestPrep SAT Tutor on TestPrep interactive whiteboard
 Any combination of 20 Math or English Lessons
Topics according to your needs
Fits your time schedule
With the preparation process I started 8 months ago, I got 1550. If you follow all warnings and instructions, it is the only institution that can easily take you to these levels. Test Prep responded to my every need with the course materials closest to the exam, its experienced teachers and friendly staff.

Test Prep SAT Student – Sinan
Best SAT Test Scores
 of Our Students
High-Tech Online SAT Classes Support You In The Race Against Time
Our online education gives students access to our unrivaled international teacher team. So students can get the best support wherever they are. With the Test Prep Online infrastructure, students can share audio, video, slide, chat and screen in real time. From plotting graphs to writing chemical equations, to the flexibility and responsiveness of online workspaces, students and teachers are allowed to explore in detail together. At the end of the online classes, students not only master effective testing strategies, but also have ample opportunities to practice comprehensively using the materials covered during the lesson.
In SAT, which competes against time, solve questions against time with the online question bank created by teachers. Questions sent to students immediately at the end of the lessons are resolved and graded on our system. Thanks to our online system, the start and end times of the assignments are checked. In this way, students are followed at the highest level. In addition, by observing the time spent on questions, it enables our students to use their time efficiently.
Online SAT Practice Tests
We have all the applications and materials, including 60 online practice tests, 3,700+ study questions, which you need to specialize in SAT strategies and approaches. Score reports sent to students at the end of the mock exams provide the best understanding of each question. So you can quickly understand where you went wrong. The practice tests applied at the end of the course are based on providing students a real exam experience. In the race against time, Test Prep is with you.


SAT students take a test that includes mathematics (SAT Math) and English (SAT Verbal). In the verbal section, students need to be able to answer the questions about texts correctly and as soon as possible. The Verbal part contains the Reading Test section consisting of 52 questions to be solved in 65 minutes and Writing and Language Test section consisting of 44 questions to be solved in 35 minutes. We offer the SAT courses for all parts of the SAT 1 exam. The highest total of 1600 points is taken from both sections.
Re-designed SAT (New SAT), in the US in March 2016 and, in May 2016, and was launched in the rest of the world, including Turkey. Although some parts of the SAT exams remain the same, the majority of the tests have been differentiated. In general, the SAT Test has begun not to include question types such as those that are based on rules and formulas and that are to be used in the real world. The students demonstrate the knowledge they learn in the classroom, the ability to use outside the classroom (including vocabulary and math skills).
In this way, universities will be able to see more easily how they are ready to begin university education, instead of hard memorizing their ability to learn new knowledge. The redesigned SAT is evaluated over 1600 instead of 2400. Every mistake made in the old SAT would cause you to lose 0.25 points. It will not be like that anymore. Since the first announcement of the changes, we have started to work as the SAT Course and have prepared all our SAT Course materials in accordance with the needs of the students.